OTO News (Grad Prix de Formule 1) – Round 2 of the season, Saudi Arabia Grand Prix took place at Jeddah Corniche Circuit. Sergio Perez of Oracle Red Bull Racing, supported by Honda as a Team Partner, won the race, with Max Verstappen finishing second.
Pérez started on pole with Fernando Alonso overtaking him off the start line, only to be handed a five-second penalty which allowed 33-year-old Pérez to take the lead as Verstappen picked off the field to move second behind his colleague just before the halfway point of the race.
Verstappen tried hard to close the gap and recorded the fastest lap on the last lap to bank second place and a one-point lead over Pérez
Scuderia AlphaTauri driver, Yuki Tsunoda finished 11th, Nyck De Vries finished 14th.
Quotes:
Sergio Perez 11,Oracle Red Bull Racing
 "I had a wicked race – which is a new word I learnt this week! I didn't have a great start but after I got back around Fernando, I was able to create a good gap between the rest of the field and me… until the safety car came out and I was reminded of Jeddah 2022… It was a new race after the safety car though and I'm happy I was able to build a gap again and then keep it, even when Max was pushing at the end. Everyone back in Milton Keynes and here at the track have built such a fantastic car for us this season. I love being a part of this Team because of the way we push and the way we deliver, I'm so proud of us. The Team is working at such a high level so it's really great to be a part of. In the end, we must remember it's a long season but tonight was a massive team result."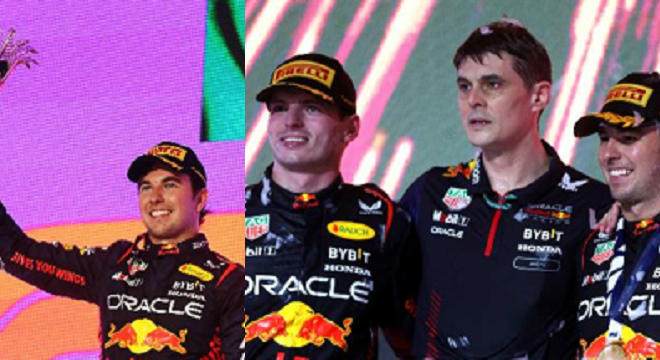 Max Verstappen 1, Oracle Red Bull Racing
 "The beginning of the race was a bit tricky, it was hard to follow in the train of cars because there was very low grip. At one point it all settled down a bit, I could move forward and the safety car helped a little bit. It was about being calm and overtaking the cars one by one. In general P2 was always the target today. Today was about recovering what was possible, if I had qualified P1 then today would have looked very different. I was catching Checo towards the end of the race but we calculated it wouldn't be enough to make up the gap to him by the end of the race. I started to feel a vibration in the laps where I was catching and trying to push, I started to feel some instability in the car. Sometimes it's better to just tell yourself it's better to bring that P2 home. As a Team we have to work on making sure both cars are reliable because we have a very fast car but I still think we can do a better job. I would like a clean weekend in Melbourne to maximise everything we can. I am happy with the way it is turning it out at the moment but it is still a long season."
Yuki Tsunoda 22, Scuderia AlphaTauri
 "I ended the race in P11, it's frustrating to lose the position with only four laps to go. The team did a really great job, everything went perfectly. The pace on the medium tyre was very strong and it improved compared to qualifying. I'm happy with what the team and I achieved together, but at the same time, I'm disappointed we didn't reach the points in the end. We'll come back stronger with updates in Melbourne, so we are already fully focussed on the next race, where we will do our best to maximise our performance. We'll continue to work hard to be able to fight at the top of the midfield and start scoring points consistently."
Nyck De Vries 21, Scuderia AlphaTauri
"I didn't do a good enough job today. I lost most of my momentum at the start and restart, so I got stuck in traffic. It's difficult to regain that rhythm and make up the positions, especially when you're caught in a DRS train. I didn't attack enough and struggled to find the balance between managing the tyres well and pushing, so I was unable to get them to the right temperature. In the end, when I was in clean air chasing Zhou, my pace was very strong and consistent. Generally, it was a step up from Bahrain, so that's a positive. We definitely need to keep going and continue to push."
For more information, please visit https://honda.racing/f1/post/f1-2023-rd02-race